Sediment core collection
Collecting seafloor
samples is an expensive process involving the use of complex sampling devices on research ships in remote ocean areas. It is very important that we extract the maximum amount of use from these samples. In 1997 the Natural Environment Research council decided to encourage the efficient use of these seafloor samples by setting up the British Ocean Sediment Core Repository Facility (BOSCORF) at National Oceanography Centre, Southampton.
Cores collected at sea are split into two halves and kept in individual sealed plastic boxes, one half is designated the archive half, which is kept pristine for as long as possible, the other (the working half) is made available for sampling. When the cores are returned to Southampton Oceanography Centre they are stored inside a 4°C temperature controlled core repository, for use by others. As new measurement techniques become available and new concepts evolve, cores can be resampled to add to the knowledge base.
Collecting longer cores that have penetrated deeper into the seafloor sediment will provide us with sediments showing a more detailed record of climate variation from further back in time.
In this video Marin Jakobsson explains how and why multi cores and piston cores are collected, and what they will be used for:
This video provides an overview of the process aboard the USCGC Healy in the Canada Basin.
The NOCS Long Piston Corer
As we try to sample deeper and deeper into the mud on the seafloor the sampling devices become larger, more complex and more expensive. The LPC is the largest coring device used at NOCS and can penetrate. over 30 metres in to the seafloor. Piston cores rarely recover the sediment surface, hence the need for box cores to sample the sediment-water interface.
The box corer (right)
Designed to take a sample of the sediment surface and bring it back to the ship intact. The box corer penetrates less than 100cm into the mud on the seafloor.
This video was taken at the sea floor and explains the process of Box Coring and sampling.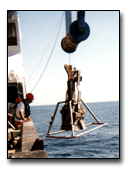 The open box corer (right)
Back on the ship, sub-sampling tubes have been pushed down into the sediment