Techniques and protocols in sediment core description, analysis, data visualisation and interpretation
17-19th January 2018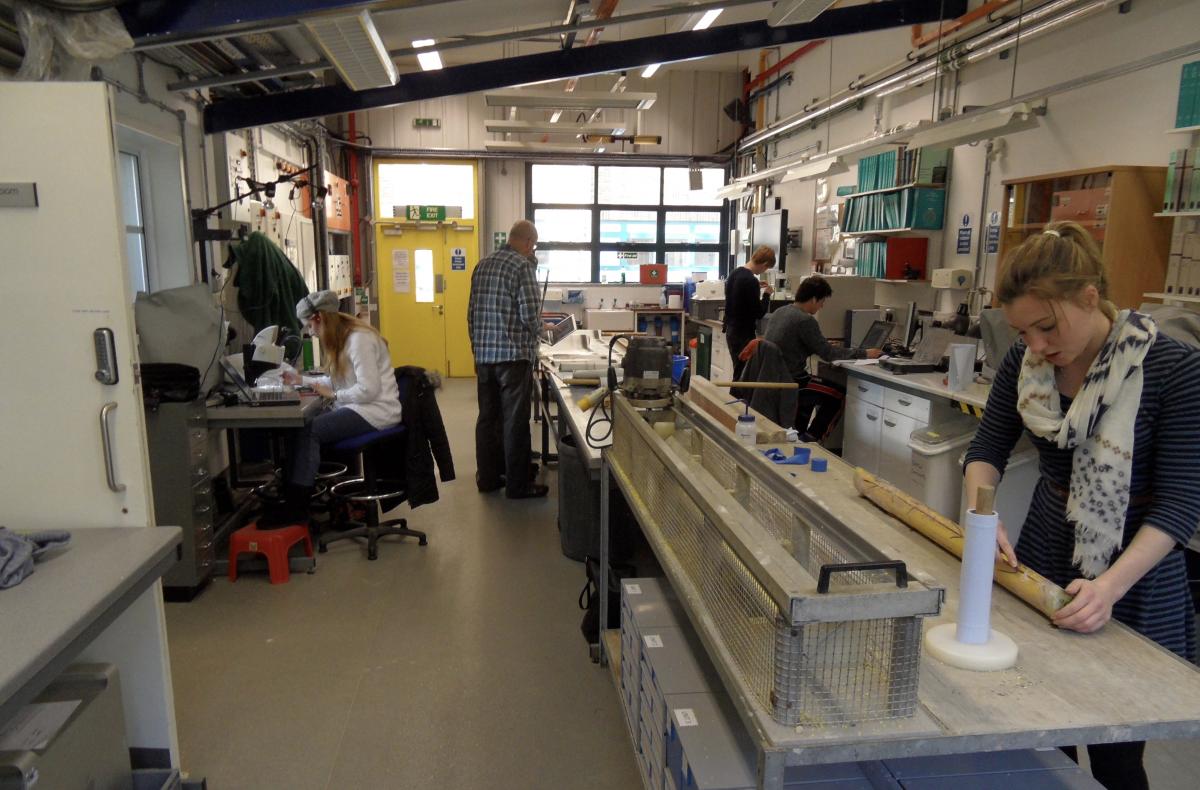 Training Outcomes.
The course will provide comprehensive training for students in all aspects of sediment- based research, spanning sample collection and analysis using best-practise laboratory techniques and protocols through to robust data visualisation and interpretation. The course will thus provide participants with essential transferable skills necessary for their research in the environmental sciences encompassed by the NERC mission.
Intended audience:
PhD students and early career researchers who need to understand the principles and gain practical experience in sediment core collection and analysis techniques.
Course Objectives
After completing the course, the participants should:
Understand the key theoretical and practical principles of sediment sampling, laboratory analysis techniques and interpretation of resulting datasets.

Be aware of laboratory best practice and key sediment sample processing techniques

To gain experience using sedimentological core logging techniques and integrating other relevant data.
Course description.
The first day of the course will focus on sample collection (near-shore boat-based) and cataloguing; day 2 will cover instruction in best-practise laboratory protocols, visual core logging, smear slide analysis, spectrophotometry and other sedimentological parameters. This will include laboratory-based practical sessions to reinforce and test student understanding. The third day will be devoted to data interpretation and visualisation, with computer-based statistical analysis of acquired datasets, including data integration and interpretation using iPoint software.
Delivery mode.
The training course will involve formal lectures, practical sample collection, laboratory demonstrations, computer-based analysis of environmentally-significant datasets and open forum discussions.
Expertise and Facilities.
The British Ocean Sediment Core Research Facility (BOSCORF) based at the National Oceanography Centre (NOC) is the UK's national deep-sea sediment core repository, wholly-owned by NERC. The facility plays a key role in the delivery of community response to strategic NERC scientific priorities such as climate change, geohazards, carbon capture and environmental pollution. BOSCORF provides a set of unique, strategic services to the UK's scientific community: providing advanced non-destructive core logging and analysis facilities that are amongst the best in Europe. As well as providing access to these facilities, the highly specialised skills of BOSCORF staff provide unique advanced training to early careers scientists and students, not available elsewhere in the UK. The training takes a wide range of forms, and we pride ourselves on providing training tailored to users specific needs, for example, one-to-one instrument training, through formal courses and workshops, web-based delivery, as well as through scientific meetings and published literature. BOSCORF has an expanding user-base that encompasses all areas of the environmental sciences covered by the NERC mission, and extends to disciplines such as technology, archaeology, and pollution. Uniquely to similar facilities, the head of the facility, Dr. S. MacLachlan is a trained research scientist, providing the key link between practical training and data interpretation of deep sea sediments.
The University of Southampton (UoS), School of Ocean and Earth Science, located at NOC, hosts state-of-the-art sediment dynamics research laboratories and instrumentation, including a suite of experimental research flumes, a dedicated particle size analysis laboratory and field sampling equipment. These are regularly made available to outside institutes that lack these facilities. These specialised laboratories and facilities are used by a substantial number of PhD students and early careers researchers across a wide discipline base, and also provide essential training to these communities on a one-to-one basis. The UoS coastal research vessels provide an ideal cost-effective platform for sampling in shallow coastal waters, and provide a unique and rewarding experience for students in providing 'hands-on' training in data collection and marine sampling. Dr C. Thompson, who manages these laboratories, has a proven track record in observational and experimental sediment dynamics, with over 50 peer-reviewed publications in the field. With a particular emphasis on the role of sediments in interdisciplinary research, she is currently a co-I on three NERC-funded projects: BLUEcoast (ref), Shelf Seas Biogeochemistry (NE/K001906/1) and Macronutrient Cycling (NE/J012238/1). She also co-ordinates an MSc level 'Coastal Sediment Dynamics' course at UoS.